Elizabeth Nenarokov is a young artist specializing in innovative ceramic sculptures and contemporary art.
Half Russian and half English, Elizabeth Nenarokov is a passionate and ambitious contemporary artist experimenting with various sculptural materials such as ceramics, wood, glass, metal, and painting mediums. Born in London, Nenarokov has lived in Russia, Slovenia, and Cyprus throughout her life. In 2015, she graduated with the Ceramic bachelor's degree from Stroganov Moscow State University of Arts. After her studies, she continued to make art and build a successful career in the hotel industry.
2020 was a pivotal year for Elizabeth. The pandemic caused the hotel she was working at to temporarily close down, while in her personal life, she was in the midst of a divorce. To be close to family, she moved out of Cyprus and back to Slovenia. Nenarokov needed a way to process these feelings, and it was at this time she rediscovered clay in a whole new way. Making art gave her the ability to transform her emotions into something new, beautiful, and inspiring.
There are two themes that influence all her works: an ethereal connection to the animal world around us and music.
Elizabeth believes that every person has a spiritual connection to a particular animal, and she explores this idea through abstract and decorative shapes and colors.
All her art pieces are an expression of a possible transformation of human characters and souls into animalistic reincarnation – what is known as a person's «daemon».
Elizabeth is also deeply inspired by music, and she captures (through shapes, colors and textures) the emotions of a song in the art piece she is creating while listening to it.
In each of Elizabeth's works, animal spirits, music, colors, and shapes are fused into a single art piece, hinting on a daemon's reflection behind ceramic surface and filling the interior with a special live vibe and atmosphere.
In the summer of 2021, Nenarokov moved back to Cyprus, Paphos town, to focus on establishing an artistic presence. Inspired by the challenges and opportunities from her experiences, she currently dedicates her time in creating pieces that reflect an emotional, raw connection within the animal spirit. She collaborates with architecture and interior design companies, making monumental installations with her bold expressions.
Nenarokov has been a part of many exhibitions in Moscow, Slovenia, and Cyprus. In 2012 and 2013 she was part of the Youth Exhibition of Russian Artists at the Kuznetskiy Most in Moscow. She has art pieces in two private collections held at the Darwin Museum of Moscow and in Limassol, Cyprus. In 2020 she had her first solo exhibition Daemon shown at the Blacksmith center in Lesce, Slovenia. Her most recent exhibition was This is Cyprus at Makers Space Gallery, Tala, in 2022, Solo exhibition at Wins & Wave Gallery Paphos, 2022 and Group Exhibition at Gallery Link 68, Limassol.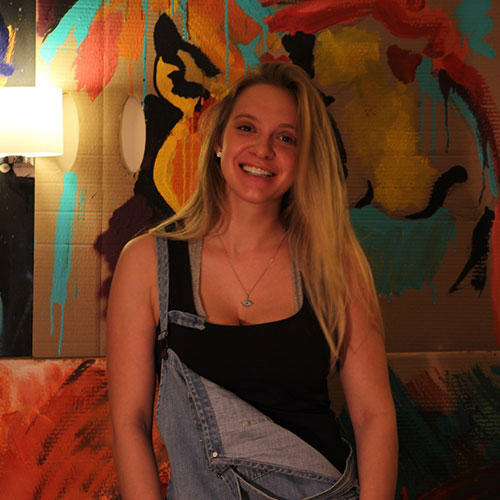 Our Newsletter
Sign up for our News letter to make sure to get informed about our latest news and activities.